Cleveland, Ohio

A Neighborhood Exploration

Currently

301

articles regarding its history



St. Barbara Class Lists
From Brooklyn Centre Wiki
The following are class lists for St. Barbara Elementary School on Denison Ave. in Cleveland, Ohio.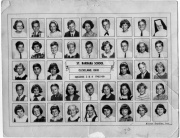 3rd & 4th Grade ---- 1965-1966
(Note --- The following list is more recent than that included on the photo and has a few more students identified.)
Top left: Janet Voss, Tim Keck, Elaine Strumble, Michael Sobczyk, Valerie Pawul, Michael Kocon, Betty Trujillo, David V, Sr. Maryanne
2nd row: ?, Marcia Yanik, Joseph Pesto, Maryann Dobrovich, Carl Kocon, Bonnie Pilichis, Alan Krupa, Theresa Brese, Richard Pinchok
3rd row: Debra Skidd, John P, Jean Premintine, ?, ?, Barbara Kaput
4th row: Jim Jezior, ?, Dennis Wilk, ?, Tom Tube, ?, ?, Cynthia W, ?
5th row: ?, Nancy Kubit, ?, Barbara Minich, Regina Tunig (?) , ? Lipinski, Carol Shella, ?, Maryann Good
COMMUNION CLASSES
COMMUNION CLASS -- May 1953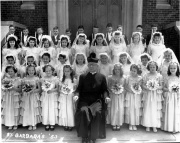 Adams, James
Bartkiewicz, Karen
Draye, Dennis
Gawryszewski, Eileen
Gliwa, Patricia
Glod, Irene
Jakubowski, Walter
Jesiolowski, Kathleen
Kalinowski, Peter
Karaba, Peter
Kulaga, Linda
Minich, Andrew
Opalka, Joseph
Opalka, Catherine
Ptacek, Shirley
Rozhon, James
Schultz, Joyce
Taylor, Vivian
Wanicki, Sandra
Woloszynek, Elaine
(several more not yet identified)
COMMUNION CLASS -- May 1965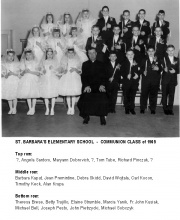 _______, Angela
Brese, Theresa Brese
Dobrovich, Maryann
Kaput, Barbara
Keck, Timothy
Kocon, Carl
Krupa, Alan
Pesto, Joseph
Pinchok, Richard
Premintine, Jean
Skidd, Debra
Sobczyk, Michael
Strumble, Elaine
Trujillo, Betty
Tube, Tom
V______, David
Yanik, Marcia<br
GRADUATION CLASSES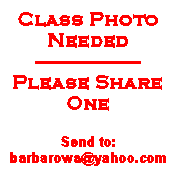 GRADUATION CLASS -- June 1939

Good, John
Kocon, Emil
Krupa, Steve
Kucharski, Leo S.
Oprzadek, Mary H.
(Partial list -- No image available at this time. Can you contribute one?)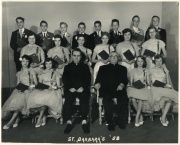 GRADUATION CLASS -- June 1958
Adams, James
Draye, Dennis
Glod, Irene
Jakubowski, Walter
Kalinowski, Peter
Karaba, Peter
Kulaga, Linda
Minich, Andrew
Nowak, Beverly
Pernick, John
Pensock, Judy
Ptacek, Shirley
Shella, Joan
Taylor, Vivian
Trczynski, Diane
Wanicki, Sandra
Woloszynek, Elaine
Wojton, Dennis