Cleveland, Ohio

A Neighborhood Exploration

Currently

301

articles regarding its history



Beyerle Park
From Brooklyn Centre Wiki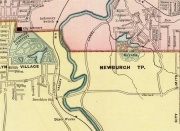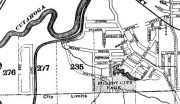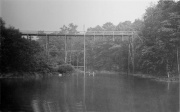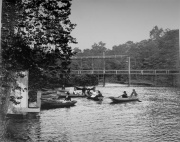 Owner:
George William Beyerle
Location:
Newburgh, Cuyahoga County, Ohio
Years of Operation:
1883 - 1894 (as Beyerle Park)
1894 - 1920 (as Forest City Park)
About the Park:
Beyerle's Park was a small place of amusement for late 19th century Clevelanders. Owned and operated by George William Beyerle, it was located in a ravine in the Washington Park area (off Independence Street near Fleet Avenue). In 1888, G. William Beyerle purchased numerous sublots from J. Sykora using a company name of BEYERLES PK ZOOLOGICAL CO.
By 1898, the park was called Forest City Park.
The image to the right shows the lake and footbridge. In the next image ladies, in the fashions of the day, are boating upon the lake. The lake had been formed by damming up Burke Brook.
Amusements there included a ballroom for dancing, a merry-go-round, a beer hall, rollerskating, bowling, boating (see images on the right), a shooting gallery, a baseball diamond, a grandstand and fishing.
It has been said that the park was owned by the Humphrey family until they decided to create a much larger park called Euclid Beach. Is there a deed that confirms this?
Up until the 1930's the site continued as a park until the City traded off the westernmost part to the steel mills, who needed somewhere to dump slag. The slag created an ugly cliff which you'd happen upon as you drove through the park and came around a bend in the road. The eastern part of the park was still there in the early 1960's, but then the whole valley was filled in, covering over a part of Cleveland's past.
In 1888, Beyerle's Park was the site of some major league baseball game.[1]
07/22/1888 AA Baltimore AA Cleveland Beyerle's Park, Newburgh OH (6)

07/29/1888 AA St. Louis AA Cleveland Beyerle's Park, Newburgh OH (6)

08/26/1888 AA St. Louis AA Cleveland Beyerle's Park, Newburgh OH (6)

09/02/1888 AA Louisville AA Cleveland Beyerle's Park, Newburgh OH (6)

Notes
External Links