Cleveland, Ohio

A Neighborhood Exploration

Currently

301

articles regarding its history



100th Anniversary Book
From Brooklyn Centre Wiki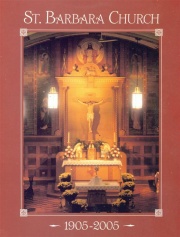 History of St. Barbara's Parish
by Fr. Michael Dyrcz,
(Administrator of St. Barbara Church, Cleveland, October 31, 1997-Nov. 1, 2007)
from the 100th anniversary booklet, ST. BARBARA CHURCH 1905-2005.
Introduction
What was parish life like in Cleveland in 1905? For one thing the diocese was much larger in territory. At that time, Youngstown and Toledo were part of the Church of Cleveland. By 1905, there were two Polish parishes in Toledo and two Polish parishes in Youngstown. The problems of nationality parishes experienced in Cleveland were multiplied and repeated. Every nationality church wanted a priest who spoke their language. Whenever a priest is ordained, some diocese or religious order must hold the title to his ordination. The new priest is expected to work in his diocese or order. There is no "free-lancing." We say that a priest is "incardinated" into a diocese.
In a special case, a bishop may "excardinate", or release, a particular priest. Another diocese must pick up the title to his ordination after five years. In the 1800's as new world immigration developed, European bishops had plenty of priests. European bishops were only too happy to let a priest go to the new world, especially if that priest was a headache for the bishop. There was also the problem of unrealized expectations. Sometimes a priest would arrive in a diocese and would be sent to a parish that existed on paper only. After a few years the priest may have succeeded in building a small temporary church and rectory for his little flock of 100 families. Priest and congregation were mutually dissatisfied with each other. Sometimes the priest took a new assignment or returned home. There were abrupt transfers and sometimes there were days and weeks during which the parish was pastorless. Some priests were named "Pastor pro tem."
There were periods of economic difficulty, recessions in the U.S. in the years just prior to and just after World War I. How many parishes were in debt at that time? How many foreign born clerics knew the intricacies of foreclosure or second mortgages? By 1905, the Polish National Church, a schismatic group, was organizing. The Universe Bulletin of December 1906, recorded the laying of the cornerstone for St. Barbara's Church. It stated that before the appointment of Fr. Migdalski as pastor, "Polish independent priests were luring away the faithful in Brooklyn from the Catholic church." By 1914, Sacred Heart Polish National Catholic Church existed at Lincoln Park in Tremont, and Immaculate Heart on Lansing Avenue was "independent." Hopefully this introduction will help us to understand the history of St. Barbara's Parish.
By 1905, the number of Polish families living in the Broadview, Pearl, Henninger, Krather area and those Polish families living around W. 15th and Denison was increasing. A priest from St. John Cantius (Jan of Kenty) occasionally met the pastoral needs in Polish. The Diocese of Cleveland in its own directory lists the founding of the parish as 1905.
On January 24, 1906, Fr. H. Orlowski forwarded to Bishop Horstmann a petition from the Poles living in Lakewood and worshipping in St. John Cantius in Tremont for permission to build a frame chapel. Fr. Orlowski stated that there were not many Poles living in that area as of yet. "But if a chapel is built there even though there will be no services for some time very likely more Poles will settle there if they are certain that they will have their church." The letter continued "moreover this undertaking may incline the Poles residing in Brooklyn who are much greater in number to build a church which would be very desirable because it might put an end to the attempts of Independents who at several occasions have tried to draw the Poles residing there from the Catholic Church."
Pastors
Fr. Albert Migdalski (April 11, 1906 - December 12, 1908)
In April 23, 1870, Albert Migdalski was born in Maciejowice in Prussian ruled Silesia (in Polish, "Slask"). He received his education in Lombriasso, Italy and the Gregorian University in Rome. Fr. Migdalski was ordained on December 20, 1902, in Mondefrascone, Italy. He appears in Cleveland on April 21, 1903, when he was assigned as the assistant pastor of St. Stanislaus, Cleveland. He was named "pastor and founder" of St. Barbara Parish, April 11, 1906. He served here until June 1908. Due to poor health he retired and returned to Poland where he served the Katowice Diocese in Silesia. In a Universe Bulletin article of December 11, 1914, Fr. Redmer of St. Hyacinth Parish received a letter from Fr. Migdalski stating that he had been drafted into the Prussian Army where he was functioning as a "military pastor." The article stated that "Bishop Farrelly secures release of his priest" by contacting the State Department in Washington D.C. We don't know if the Bishop was successful.
On April 11, 1906, Bishop Ignatius Horstmann appointed Fr.Albert Migdalski resident pastor of the Polish parish to be organized in South Brooklyn Bishop Ignatius Horstmann on April 11, 1906. In his letter of appointment Bishop Horstmann further wrote "you will also take charge of the congregation to be organized as a Mission at Lakewood... please confer with the Rev. H. Orlowski in reference to the parish to be organized. Until you have arranged for your residency, you may stay with Fr. Orlowski" (St. John Cantius).
The Diocesan Report for 1906 in the Universe Bulletin of December 12, 1906 gives this brief summary:
Organized April 7, 1906 by Rev. Albert Migdalski. On August 10, he purchased 20 lots (2 1/2 acres) on Valley Road for $2,400 from the Gates Estate. " The Gates family was very influential in the history of Old Brooklyn. The deed to the property mentions the adjacent Eggers Brick Company, and the Sanborn fire insurance maps show round brick kilns on the Eggers property.
By November, a contract had been let for a church-school building for $11,420. Architect Emile Uhlrich planned a three-story building with the church on the first floor, two classrooms on the second and two classrooms on the third floor. In the December 1906 issue of the publication, The Ohio Architect and Builders, it is stated that Mr. Uhlrich has "prepared plans for a church and school for Rev. A. Migdalski, Brooklyn, O., 36x76 feet, two stories; slate roof; plaster; gas and electric fixtures; steam heating... General contractor Webster & Newman." The first Mass was said at Christmas in a bare, unfinished auditorium. The building was to be completed in March 1907.
In the Universe Bulletin of December 7, 1906, we read:


"Last Sunday, December 2, the newly incorporated borough of Brooklyn witnessed an impressive demonstration of Catholic faith. The occasion was the laying of the cornerstone of St. Barbara's combination church and school building. At 2 o'clock pm societies from every Polish and Lithuanian congregation in Cleveland poured into little Brooklyn. Krather Court, where the temporary residence of Fr. Migdalski, the pastor is situated was lively as never before with gay band music, the chat of the numerous Polish Catholics and the brilliant uniforms of the various Polish military organizations, including 500 men, under the able leadership of Mr. M. Kulota.

At 3 o'clock the Rt. Rev. Msgr. G. F. Houck, accompanied by Rev. L. Redner, arrived. His carriage passed through a long line of Polish soldiers in parade formation presenting arms. At Fr. Midgalski's residence Msgr. Houck was received by a gathering of clergy, who, in carriages, ended the long procession moving through the principal streets of Brooklyn toward the new building. "
In his report to Bishop Horstmann for the year ending December 31, 1907, Fr. Migdalski reported that the church was to be completed by Easter of 1907. St. Barbara's school opened on September 15, with 19 students (8 boys, 11 girls). Sadly Fr. Migdalski notes that 25 parents refuse to send their children to Catholic school. He states that "a lady teacher is in charge of this school." The report dated December 20, 1908, states that "all children attend public schools." It seems then that the first attempt to establish a parish school ended in failure. By June of 1908, Fr. Migdalski was gone. Earliest attempts in parish history listed Fr. Kuta as one of 6 pastors in 3 years time. In fact Fr. Kuta served at St. Barbara's as a vacation replacement for Fr. Migdalski during the summer of 1907.
Fr. Julius Paczuski (June 1, 1908 - December 1908)
Fr. Julius Paczuski was born in Poland on December 7, 1874. He attended the seminary in Lublin. Bishop Ruskiewicz ordained him in Warsaw on December 8, 1897. Fr. Paczuski did pastoral work in Poland, and in New York State. He was assigned "Pro-Tem" at St. Barbara's June 1, 1908 and he served till December 1908, when he was moved to Grafton's Assumption Church. He served from December 12, 1908 until March 5, 1909, when he left the Diocese.
Fr. Joseph P. Kocinski (December 12, 1908-March 27, 1909)
Fr. Joseph P. Kocinski was born near Warsaw, Poland, on February 28, 1877. He attended St. Ignatius College (now John Carroll University) and Cleveland St. Mary Seminary. He was ordained on June 9, 1906, at St. John's Cathedral by Bishop Ignatius Horstmann. He did parish work in Toledo and Cleveland. Fr. Kocinski was named pastor of St. Barbara's on December 12, 1908, and served until March 27, 1909. From that day he was pastor of St. Hedwig's, (later known as St. Josaphat) in Cleveland until April 26, 1917. He was pastor of St. John Cantius from April 26, 1917 to May 17, 1932 and pastor of Sacred Heart in Cleveland from May 17, 1932 until June 25, 1937. He next became the pastor of St. Josaphat and served there from June 25, 1937 until November 26, 1941. Fr. Kocinski retired November 26, 1948, and died on November 1, 1954. He is buried in Calvary Cemetery, Cleveland.
Fr. Camillus Sierputowski (April 29, 1909 - February 18, 1910)
Fr. Camillus Sierputowski was born March 7, 1870. He was educated in Warsaw, St. Petersburg and Rome. On July 6, 1902, Fr. Sierputowski was ordained in Lemberg, Austria (also known as Lwow, Poland; Lviv, Ukraine). His assignments included: Lemberg, Austria; LaCrosse, Wisconsin; Duluth, Minnesota and Ss. Cyril & Methodius Slovak parish in Barberton. He was the pastor of St. Barbara's from April 29, 1909 until February 18, 1910, when he left the Diocese.
Fr. Thomas Krakowiak (April 5, 1910-September 20, 1910)
Fr. Thomas Krakowiak was born in Slotwin Poland, on December 7, 1883. He studied at the Seminary at Plock and was ordained a priest of the Diocese of Plock in July of 1907. He did pastoral work in that diocese from 1907 to 1909. Coming to America he worked in Connecticut. On April 5, he became pastor of St. Barbara's. Some five months later, he resigned the pastorate on September 20, 1910. Fr. Krakowiak then left the Cleveland Diocese.
Fr. Paul Koszyk (September 20, 1910 - September 1911)
Fr. Paul Koszyk was born January 10, 1870 in Miechowitz. He was educated at Innsbruck College and Seminary and the Seminary at Turin. He was ordained by Bishop Giordaini on December 3, 1899. His assignments included: Toulouse, France; Innsbruck, Prussia and Wilmington. In a letter of appointment dated September 20, 1910, Fr. Koszyk was appointed "pastor pro-tem" of St. Barbara's Parish with the Polish parish in Lakewood as a Mission. In the book People of Faith that celebrated 150th anniversary of the Diocese of Cleveland, the entry for St. Hedwig's Parish is dated 1905. Furthermore the historic sketch states that in December 1909 Bishop Farrelly appointed Fr. Thomas Czarkowski its first pastor. The archivist of the Diocese of Cleveland stated that in the Official Catholic Directory for 1911 Fr. Paul Koszyk was listed as the pastor of St. Barbara and St. Hedwig. The 1914 Official Catholic Directory listed Fr. Theophil Czarkowski as the pastor pro-tem of St. Hedwig Parish. Sometime after 1913 he left the diocese.
The following is from Fr. Koszyk's report to the Diocese dated December 30, 1910. It was originally written in Italian and translated recently by the priests at St. Rocco's:
The church built in the autumn of 1906 is in a downhill slide. It is located far from where the faithful live. To arrive at the Church, 85% of the parishioners have to cross the valley, passing 2 railroads and a bridge. It is difficult to travel this distance after a rain storm and impossible to travel in he winter. Those living closest to the parish travel 30-35 minutes to arrive at the church. After the new bridge will be built, about 83% of parishioners will prefer attending St. Stanislaus or Sacred Heart of Jesus, even though they are farther away. Over the church there are 4 classrooms which can accommodate 80 students, but because of distance and danger in travel, the school is not feasible. There are about 60 students that come for religion classes. 5-8 children never attend. I have used every possible argument to convince the families to send them but what can you do if the mothers themselves to not go to church. I celebrate daily Mass without any servers and without a congregation. A new rectory was built in 1909 costing $3,000. Although some parishioners state that it is worth far less than $2,000.
That house that was build as a rectory still stands at 4003 Valley at Elston. It is now a duplex.
Fr. Paul Szulerecki (November 28, 1911 - January 25, 1918)
There was a two month gap between the departure of Fr. Koszyk and the arrival of the seventh pastor, Fr. Paul Szulerecki. Paul Szulerecki was born in Chicago on October 4, 1878. He trained at St. Bonaventure's in New York State. On May 4, 1904, he was ordained by Bishop Colton in Buffalo. In 1907, he was identified as a priest of the Erie Diocese. On November 28, 1911, Fr. Szulerecki was named pastor of St. Barbara's. He resigned on January 23, 1918. He served another month at St. Mary's in Barberton and then left the Diocese.
In a feature article in the October 4, 1912 issue of the Universe Bulletin there is an article entitled "St. Barbara's Polish Parish Overlooking South Brooklyn."
One of the youngest Polish parishes in the city stands in a particularly beautiful spot in South Brooklyn, the site commanding a view of the entire valley from the height on which it stands at the extreme northly end of Valley Road, one of the most magnificent views of the natural scenery in a section which abounds with them... Father Szulerecki is a native of this country, a young priest, who is thoroughly Americanized in every way and who is very anxious to do everything in his power for his people. It is altogether probable that before another year has passed more than tentative steps will have been taken toward locating St. Barbara's permanent plant on the northern side of the valley nearer to the center of the population.
The issue of the church's location can be seen in a two-page hand-written document found in the Archives of the Diocese. It begins with the following words:
We the undersigned have held a meeting on the 25th of April, 1913 at Barski's Hall at 4 pm, at the foot of Denison and Jennings Road to discuss the future of our congregation...(The present site is inaccessible therefore we decided to purchase land on Denison Avenue between 15 & 16 streets...) The total price of this land is $7,380. Thus far we have paid $2,276 on land contract. The balance due $5,104 with two years interest...
The Cleveland Press of April 7, 1915, included an article about the devastating fire at St. Barbara's Church. The damage amounted to $20,000. The firemen had to struggle with impassible roads. In trying to fight the fire before the arrival of the fire engines, Fr. Szulerecki suffered burns about the hands and face.
Cleveland Press, April 7, 1915

ST. BARBARA'S CHURCH BURNS
Priest Believes Tramps Police Dump Start Fire

The practice of police of dumping vagrants in the Harvard-Denison valley was blamed Wednesday for an early morning fire which destroyed St. Barbara's Polish Catholic Church The church, on a hill at 4149 Valley rd, was a total loss. Costly vestments, statues and pictures went up in the flames, which lighted the valley like a beacon. The damage is estimated at $20,000. Five engine companies, after struggling over almost impassable roads, were unable to save any of the furniture. Firemen of engine company 4 narrowly escaped when a brick wall fell. Rev. Father Szulerecki of St. Barbara's was burned about the face and hands aiding firemen.

Priest Fights Flames. Father Szulerecki, whose parish house is nearby, was awakened at 1:30am Wednesday. The priest dashed out in night attire to sound the alarm. Until firemen arrived, he tried to put out the fire with buckets of water. Father Szulerecki believes tramps, dumped by police, broke into the church basement to sleep, and threw "lighted matches on the floor." "I have appealed to police in vain several times for protection from tramps," said Father Szulerecki. "A year ago St. Barbara's was threatened twice by fires I am sure were started by tramps."
Cleveland Press, April 15, 1915

MAY FORM NEW CHURCH
Members of St. Barbara's Parish Debate National Catholic Move

A Mass meeting of members of St. Barbara Polish Roman Catholic Church, which was destroyed by fire last week, was held last evening at W.O. W. Hall, Denison ave S.W. near W. 25th st, to discuss the advisability of forming a Polish National Catholic congregation. A large crowd of men and women attended the meeting, which was opened by Andrew Zemba, leader in the movement. He introduced Rev. L. Wrzesinski, rector of the Polish National Catholic Church, W. 14th st and Fairfield ave SW, principal speaker of the evening. Rev. Father Wrzesinski discussed in detail the difference between the Roman Catholic and National Catholic churches, stating the two faiths are entirely similar, but that the latter congregations are the owners of their church property. In the former, he stated, all property stands in the name of the bishop. After considerable discussion a committee of seven was named to work out plans of organization. The committee, which was offered all necessary help by Rev. Father Wrzesinski, consists of T. Barski, J. Sarski, J. Winczek, J. Wrublewski, John Sitek, V. Hajec and J. K. Pasek.
On the internet, St. Mary's Polish National Church lists its founding as April 23, 1915 in Old Brooklyn. Their first church was located at 3510 Broadview Rd.
Cleveland Plain Dealer, April 9, 1915

DYNAMITE FOUND AT FIRE MAIMS BOY

Cap Picked up at Scene of Church Blaze Blows Off Thumb and Finger
Fire Marshal to Investigate, Pastor May be Subpenaed

One of eleven dynamite caps found by schoolboys yesterday afternoon at the scene of the fire which earlier had destroyed St. Barbara's Polish Catholic Church at 4149 Valley rd, SW, cost 12 year old Howard Bonness the second finger and thumb of his left hand. Powder was blown into his right hand, the fingers of which were shattered, and doctors said they were not sure they could save it. The explosion occurred at supper time last evening in the Bonness home at 3747 W.13th st when Howard tried to pick the cap apart with a hairpin. Upon learning the boys had found the caps in the yard of St. Barbara's church, which was demolished with a loss of $20,000 by a blaze suspected to be incendiary, T. A. Fleming, deputy state fire marshal, last night announced he would investigate the discovery of the caps in relation to the fire.

Mr. Fleming determined on this action particularly in view of the fact that factional troubles have disturbed the congregation of the church in the past. The pastor, Rev. Father Paul Szulereski, was to be subpoenaed by the fire marshal's office to appear for a hearing this morning. Fire Wardens Patrick Ferrie and L. J. Dormendy was at the scene of the fire yesterday.

Accidents to other boys similar to the one that injured Howard Bonness were prevented by police, who went through the neighborhood tracing boys who found the caps and recovering them. Patrolmen found in several instances the boys had emptied the caps of powder without mishap, although it was in such an attempt that the Bonness boy has hurt. Howard was given the cap which exploded in his hands by 8 year old Frank Coastes of 2303 Denison ave SW, who with other boys, found th caps sticking to the mud in the church yard. When the accident happened to Howard, Frank, Louis and Joseph Novak of 3753 W. 13th st were with him. His mother summoned Dr. C. F. Richardson, who amputated what remained of the thumb second finger of Howard's left hand. Members of the burned St. Barbara's church plan to confer tomorrow morning with Bishop John P. Farrelly regarding plans for rebuilding of the structure.
In the booklet printed for Fr. Joseph Jarosz's Ruby (40th) Jubilee as pastor of St. Barbara's (1929-1969) we read:
In 1916, [sic, should read 1915], a fire completely destroyed the church. A hall Woodmen of the World on Denison and W. 25th, was rented, in which to service. When discussions were held about building a new church, differences of opinion arose. Some were in favor of the old site. Those living around E. Denison favored a site in their section. Since these latter were the largest group-Fr. Szulerecki, with Diocesan approval- purchased a site on E. Denison and W. 25th street, and erected a small wooden church. Those dissatisfied with the location, separated themselves and formed an 'independent parish.' When financial difficulties and misunderstandings hindered Fr. Szulerecki in the building of a parish house, he became discouraged, resigned in 1917, and departed for parts unknown.
"Woodmen of the World" hall still exists. It is now an auto parts store across from the Shell gas station at West 25th and Denison Avenue.
We have from May of 1916, a letter of the Building Commission to Bishop Farrelly about the building of a wood church on Denison:
8328 Broadway, Cleveland, O
May 9, 1916

Right Rev. John P. Farrelly, D.D.
Bishop of Cleveland


Right Reverend dear Bishop:-At a full meeting of the Building Commission yesterday the plans and specification for a proposed frame Church for St. Barbara's congregation on Denison Avenue, Cleveland were duly considered. The following report was ordered made thereon:


1. The dimensions of the building were considered adequate to meet future wants. Were the building made much wider, and even shorter if necessary, it could be lengthened in future in case of need. We recommend much greater width.
2. Plaster should be substituted for "beaver boards." Something substantial can be had for little more than what is inferior.
3. There is no provision made for placing confessionals.
4. Provide two exits on the sides. The law will require this.
5. Enlarge the sanctuary--make it at least 20 feet deep.
6. Provide a passage between the two sacristies behind the altar.


Very respectfully submitted,


P.J. O'Connell
Secretary of Bldg. Commission
What is "beaver board?" It is a type of plywood made from wood shavings ends of lumber.
There are extant copies of notarized complaints against Fr. Szulerecki for slights, real and imagined. He was criticized for not consulting with his provisors (ushers) and for not allowing the people a vote on the new site. There was also the issue of the new rectory being perceived as lavish. The events of the next few months were extraordinary. Fr. John Czyzak, pastor of Sacred Heart Parish on E. 71st, enjoyed a good reputation in the Polish community. He was selected by Bishop John Farrelly to investigate and to report back to him regarding the situation. On November 30, Fr. Czyzak sent the Bishop four pages handwritten in Latin. Fr. Czyzak interviewed 40 witnesses. In the case of four who were important, three contradicted their own testimony. Fr. Czyzak's conclusion: "Fr. Szulerecki is absolved of all accusations regarding his priestly life." Three recommendations were put forth: (1) Fr. Szulerecki is to be removed, (2) A substitute vicar to exercise pastoral care until order is restored and a new rectory rendered livable, (3) At the least opposition to either priest, the parish must be closed without delay.
In the historical data for 1918, Fr. Czyzak writes:
January 25 - Fr. Szulerecki left the parish.
January 26 - Rev. John Czyzak, pastor of Sacred Heart, took the government of the parish into his hands by the order of the Rt. Rev. Bishop.
February 1 - Rev. John Zeglen, assistant to Fr. Czyzak was named the local vicar for St. Barbara's by order of Rev. Czyzak.
In October and November - Church closed on account of Spanish influenza.
Fr. John Zeglen (1918 - April 15, 1922)
Fr. John Zeglen, according to the biography from the diocese, was ordained a priest on Jamuary 25, 1918 after completing his training at St. Mary Seminary. His first assignment was as pastor of St. Barbara effective February 2, 1918. It seems that Fr. Zeglen was never an assistant pastor. In writing to Bishop Farrelly, Fr. Czyzak states that the new rectory being built at the Denison site would be finished in January 1919.
"I ask your Lordship to transfer Fr. Zeglen on the first day of February, 1919, from my parish to St. Barbara's and at the same time to release me from St. Barbara's."
Fr. Zeglen breathed new life into the parish. The finances were put in order and plans were drawn up for a school. Fr. Zeglen enjoyed writing bits of parish history into the sacramental records. On February 24, 1923 he notes: Joseph Jarosz was ordained into the Holy Priesthood. He said his first Mass here. His parents, Anthony and Anna Jarosz, live in this parish. On April 15, 1922, he was named pastor of St. Stanislaus, Youngstown." On September 29, 1929, Fr. Zeglan was named pastor of St. Mary Czestochowa in Corlett. On October 26, 1953, he was named a domestic prelate: Monsignor Zeglen. He retired June 11, 1964 and died December 13, 1964.
Fr. John Solinski (April 5, 1922 - August 15, 1927)
Fr. John Solinski was born on December 5, 1889, in Rogers City, Michigan. He attended St. Adalbert School in Berea, St. Ignatius High School and St. Mary's Seminary. He was ordained a priest on June 2, 1917. In April 1922 he was named pastor of St. Barbara's Parish where he served until August 15, 1927. In 1927 he was named the founding pastor of Ss. Peter and Paul Parish in Garfield Heights. He returned to his home parish of St. Adalbert's on June 28, 1939 where he served until his death on May 8, 1967.
Fr. Solinski picked up the school plans and began construction in 1924. A duplex on West 16th Street was purchased to serve as a convent. The original school plan for two stories and eight classrooms was downsized to a basement and a first floor for a total of six rooms and a hall. In July of 1925, Fr. Solinski moved the church furnishings from the wooden church on the corner into the school hall. Then the wooden church became the parish hall. As he celebrated his Tenth Anniversary of Ordination in June of 1927, the parishioners bought Fr. Solinski a car. His nephew is Bishop Gilbert Sheldon, former Cleveland auxiliary bishop and Bishop of Steubenville.
Fr. Leo A. Sztupek (August 1927 - April 1929)
Fr. Leo A. Sztupek was born in Erie, Pennsylvania in January 1889. He was ordained for the Diocese of Altoona, December 20, 1919. He was received into the Diocese of Cleveland, June 20, 1923 and was incardinated April 14, 1928. Fr. Sztupek served as pastor of St. Barbara's from August of 1923 to April of 1929, when he went on sick leave. He died on January 26, 1974 in Erie. He was a man of great energy and was well liked. He had a disagreement with the Franciscan Sisters of Sylvania who staffed the school. It centered on the refusal of the Sisters to teach Polish. The disagreement continued with the next pastor. Eventually the Sisters of St. Joseph of Marymount were engaged to teach in the school.
Fr. Joseph Jarosz (August 3, 1929-1970)
In the 1700's, Poland was partitioned by Prussia, Austria, and Russia. Austrian ruled Poland was called "Galicia." On October 13, 1895, a child was born to Anthony and Anna Jarosz of Sietesz, near Jaroslaw. The child was named Joseph. He began seminary studies at Przemysl. In 1921 he emigrated to the United States with his parents and completed his seminary studies at St. Mary's Seminary, Cleveland. Bishop Schrembs ordained him on February 24, 1923. His first assignment was that of the assistant pastor of Immaculate Heart of Mary. On December 2, 1926, the American Extention University of Los Angeles granted Fr. Jarosz a Bachelor of Laws degree. The Supreme Court of Ohio on August 5, 1929 recognized Fr. Jarosz as an attorney and counselor. He also received a diploma for professional training in accounting. On April 23, 1963, James Rhodes recognized Fr. Jarosz as a Notary Public.
On April 19, 1929, Fr. Jarosz was named "Administrator" of St. Barbara's. In an August 3, 1929 letter to Bishop Schrembs, Fr. Jarosz stated that out of 401 school aged children, 150 attended public schools. The reason for that was that the children were not being taught Polish. Fr. Jarosz wrote, "As soon as I announced that the Sisters of St. Joseph would take care of the school in the future, all parents having children in public school declared their intention to send their children to parochial school." Then on August 27, 1929 Bishop Schrembs attempted to transfer him to St. Hedwig's in Akron. A committee rose up and presented verbal and written statements to Bishop Schrembs. On August 28, 1929, Bishop Schrembs rescinded the transfer. To St. Barbara's Parish Fr. Jarosz represented stability, unity, peace, and prosperity.
In 1950, ground was broken for the present church. The church, which was designed in the Lombard style, seats 600 and was built at a cost of $250,000. Archbishop Hoban blessed this building on July 13, 1952. Five years later, in 1957, the house that served as a convent for the Sisters was moved from West 16th Street to Botany Avenue construction on a new convent was begun. Perhaps these years were the "golden years" for St. Barbara's. The 1960's brought the freeways to St. Barbara's door. First Interstate 71 cut through the neighborhood. Then the Jennings Freeway threatened to raze all the buildings that were part of St. Barbara's plant. The parishioners fought for the revision of the freeway plans. The people of St. Barbara were successful in getting the freeway to change its intended course. The freeway was finally opened on December 8, 1998 after destroying six square blocks of St. Barbara's parking lot. In spite of the change of plans, St. Barbara lost many parishioners. School enrollment fell and the school closed in 1969. It was the hope of Fr. Jarosz to transform the Parent Teachers Unit (PTU) into a Ladies Guild. To this end, Fr. Thaddeus Swirski was deeply involved in working with the Guild. The 1960's also saw the development of the Memorial Day Commemoration Program of the St. Barbara's Veterans. St. Barbara's sent many sons to the military during World War II. Fr. Jarosz retired in the summer of 1970. He continued to live at St. Barbara's Parish until his death in August 1982.
Fr. Chester C. Cudnik (1970 - 1997)
Fr. Chester C. Cudnik was born on December 23, 1922. He was educated at St. Casimir School, Cathedral Latin, John Carroll University, and St. Mary's Seminary. He was ordained on May 22, 1948. Among his assignments was that of assistant at St. Barbara's from 1958 to 1962. He returned as pastor in the summer of 1970. Friendly Fr. Chester did whatever was necessary to keep the parish going. He had the old school building razed and a forty car parking lot built. Windows were replaced and vinyl siding was applied to the rectory. On reaching his 70th birthday, Fr. Chester asked Bishop Pilla for a year by year extensions to his pastorate. Finally, health problems forced him to retire on October 31, 1997. Fr. Cudnik currently resides with his sister and her sons in Highland Heights.
Fr. Michael S. Dyrcz (1997- present)
Fr. Michael Dyrcz was born in Chardon on April 23, 1946. His schooling included twelve years in Chardon public schools, Borromeo College and St. Mary's Seminary. He was ordained on June 9, 1973, by Bishop Clarence Issenmann. Among his assignments was a fourteen and a half year pastorate at St. Stanislaus Parish in Lorain. On July 15, 1997 Fr. Mike was assigned as associate pastor at St. Barbara's. On October 31 of that year he was named administrator. In his ministry, both the church and the rectory were air-conditioned. New windows (heat efficient) were installed in the convent. Additional land left over from the freeway project was purchased and used to provide a twenty car parking lot south of the sanctuary. Fr. Mike worked to enhance the Liturgy and to increase roles of participation. The Ladies Guild was given a new Constitution and the Holy Name Society was established for the men of the parish. A Liturgy Commission, a Finance Council, and a Social Concerns Commision were formed.
The tension over the location of St. Barbara's Church (South Brooklyn versus Brooklyn Centre) was finally resolved thirty years after the founding of St. Barbara's and twenty years after the fire. The history of St. Barbara's Parish was very much involved with the issue of the parish's physical site. It was a subject that divided the parish. Fragments of the parish formed independent churches. All of this was because of the location. On May 22, 1935, a number of Polish priests of the diocese wrote a joint letter to Bishop Schrembs taking the side of the Poles of South Brooklyn supporting their appeal for another Polish parish. Their appeal was taken seriously and on August 15, 1935, a delegation was sent to Grafton to bring Fr. Anthony A. Orlemanski to Cleveland to be the founding pastor of Corpus Christi. Fr. Orlemanski established the new church on Stickney Avenue near Biddulph and Pearl.
In closing we note that today St. Barbara's has 350 envelope recipients. The same freeways that tore out the heart of the parish are now bringing new life to the parish. From St. Barbara's there is easy access to I-71, I-480, I-490, I-90, I-77, Route 2, and the Jennings Freeway. With the rebirth of townhouses in Tremont and Lakeview condominiums on Valley Road, and the Steelyard Commons Shopping Mall, we can say that St.Barbara's has a fine location for the future.
Assistants and Associates
Rev. Joseph Gorski 8/17/39 - 4/19/42
Rev. Edmund F. Kuczmarski 6/42 - 9/43; '62-'63
Rev. Francis J. Szczepanski 4/5/44 - 12/22/48
Rev. Edward F. Gackowski 12/23/48 - 1/7/54
Rev. Stanley A. Cymanski 5/44 - 6/58
Rev. Chester C. Cudnik 1958 - 1962
Rev. John A Kusiak 6/13/63 - 6/6/65
Rev. Thaddeus Swirski 6/10/65 - 10/18/71
Rev. Michael S. Dyrcz 7/15/97 - 10/31/97
Benedictine Fathers
Rev. David Vizsolyi, OSB
Rev. William Maytas, OSB
Rev. Joachim Pastirik, OSB
BARBARA
The name means "stranger." Her feast day was December 4th and it has been removed from the revised Roman calendar and the cultus was suppressed in 1969. Barbara was a beautiful maiden who was imprisoned by her father, Dioscorus, a high ranking and wealthy man. To protect Barbara from the world, her father shut her away in the tower. While in the tower, Barbara embraced Christianity against the wishes of her father.
Other accounts say that her father wished to build for her a lavish bathhouse. He contracted the work out and went away on a trip. While he was away, Barbara changed the building plans by adding a third window, the three windows being a reflection of the Holy Trinity. When her father discovered she had become a Christian, he mistreated her and dragged her before the Prefect of the Province, Martin Ianus, who had her cruely tortured and put to death. Her father, himself, struck the fatal blow with his sword. In punishment for this he was struck by lightning on his way home and his body was consumed. The Emperor in whose reign the martyrdom took place is called Maximinus, or sometimes Maximianus. That places the martyrdom of Barbara somewhere around 235-238 A.D. Various sites are identified for her martyrdom, among them, Heliopolis, Egypt, Nicomedia in Asia Minor.
The flash of thunder, as well as her association with towers, has made her the Patroness of many unusual professions. She is the Patron against death by artillery, against storms, explosions, fire, impenitence, against lightning, mine collapse, ammunition workers, architects, artillerymen, boatmen, bomb makers, brass workers, brewers, builders, carpenters, fire works manufacturers, fortifications, geologists, grave diggers, gunners, hat makers, mariners, masons, mathematicians, prisoners, and sudden death.
Barbara is represented in liturgical art by Canon, chalice, Palm of Martyrdom, princess in a tower or a woman holding a tower. St. Barbara is shown on the left of the Virgin Mary in Raphael's Sistine Madonna. The picture resembles very much the icons of Barbara which hang in the main and west vestibules of the church. Barbara is seen holding a cross to her bosom.
A Short History of St. Barbara's School
The first school opened its doors on Valley Road in mid-September of 1901. There were 19 students (11 girls and 8 boys). The school was operated by a woman teacher whose name does not appear in any of our historical records. We assume that the school lasted about a year. There are no further references in the archives.
In the days of Fr. Zeglen, plans were begun for a school at the Denison Avenue site. The original plans for a two storied school building had to be downsized to a basement and a first floor. This was all that the parish could afford. Ground was broken in 1924 and the school opened in September of 1925. The Wojnarowski family had a film made on that day. The film shows the priest, sisters and students marching around the new school building. At this time, the Franciscan Sisters of Sylvania in the Diocese of Toledo staffed the school. Between the years 1925-1929, twelve sisters served St. Barbara's school.

At the time of the writing of this history, one sister who taught at the school is still living. Sister Agatha was born in 1905, the same year the parish was founded. Other sisters who taught at St. Barbara's include:
Sister Adalbert 1928-1929
Sister Anastasia 1925-1927
Sister Emmanuel 1926-1928
Sister Ethelreda 1927-1928
Sister Eusebia 1926-1928
Sister Francesca 1926-1927
Sister Ignatia 1925-1926
Sister Jolenta 1926-1929
Sister Joseph 1926-1927
Sister Martha (1) 1928-1929
Sister Perpetua 1925-1929
In the Fall of 1929, Fr. Jarosz invited the Sisters of St. Joseph, Third Order of St. Francis, to staff St. Barbara's School. This was the beginning of a 75 year relationship between St. Barbara Parish and Marymount Convent. Those who attended classes in the 1930's recall that the morning classes were taught in Polish and the afternoon classes in English. The following Marymount sisters staffed our school (+ indicates deceased):
Principals
+Leonard 1929-33
+Natalie 1933-39
+Damian 1939-40
+Bogumila 1940-48
+Raphael 1948-51
+Amanda 1951-57
+Rosianne 1957-59
+Rosemary 1959-60
+Milburge 1960-65
+Marianne Mareczko 1965-69
Teachers
Adelicia 1944-45

+Amanda 1951-57

+Andrew 1931-32, 43-48

Angeline Kubit 1992-present

+Anisia 1940-45

+Anitia Marie Jaracz 1981-83

Anne 1960-65

+Anslem 1933-35

+Arsenia 1930-33

+Assumpta 1946-47

+Asteria 1935-42

+Aurelia 1969-70

+Barbara Gomolka 1963-80

+Barbara 1939-40

+Bogumila 1939-45

+Canisia 1963-64

+Caroline 1940-44

+Charlene 1960-64

+Cheryl 1964-65

+Chzeslawa (Ceslas) (Chester) 1929-45

Claretta 1957-58

+Clotilde (Genevieve) Pilat 1955-57, 68-69

+Constance 1949-50

Consuella 1944-47, 58-60

+Damian 1939-40

DeLourdes 1966-67

Dismas 1965-66

+Dolores 1932-33

Donna Wolowiec 1987-91

+Emerentia 1950-51

+Emiliana 1945-56

+Erazma 1939-40

+Estelle 1937-38, 39-40

+Eulogia 1952-56

+Fabiola 1967-69

+Florence Krupa 1982-91

Francis Clare 1952-53

+Germaine 1942-43

Gonzaga 1967-68

Gregory 1945-50

Helene 1960-63

+Hermantia 1929-30

+Hilarion 1947-48

+Humilia 1937-38

+Imelda 1930-32

+James 1929-31, 40-42, 48-52

Jane Francis 1951-52

Janine 1957-58

+Jerome 1948-49

Joan of Arc 1959-60

Kathleen 1950-51

+Laura 1953-55

Laurentia 1951-52

+Lenore 1952-53

+Leonard 1929-33

+Leonia 1934-37, 51-55, 65-66

+Liberata 1933-36

Loyola 1966-69

Luciana 1958-60

+Lucilda 1938-39

+Lucy 1957-59

+Marcelline 1946-47

+Marianne Mareczko 1965-69, 1985-2002

Melaine 1935-37, 61-63

+Michaeline Badarzynski 1982-85

+Milburge 1960-65

+Natalie 1933-39

Olga 1959-60

+Osmunde 1931-33

+Oswaldine 1933-36

+Otilia 1938-39

+Pafnucia 1942-43

+Pelagia Paciorek 1983-85

+Philomene 1944-46

+Raphael 1945-51

Remigia 1958-59

+Rosalinde 1929-34

+Rosemary 1959-60

+Rosianne 1946-47, 55-59

Rosita 1949-50

+Rytalia 1956-57

+Silvianna Kudlaty 1969-80

+Simplicia 1947-49

+Stanislas Sommerfelt 1929-30

Stella 1956-59

+Sylvia 1943-44

Teresine 1952-53

+Valerian 1947-57

+Valesia 1959-63

+Veronica 1934-39

Victorine 1957-58

+Virginelle 1929-30

+Vitelle Borowski 1969-85

The Franciscan Sisters of Sylvania gave 18 years of service to St. Barbara's parish and the Sister of St. Joseph of Marymount gave 383 years of service. That's a grand total of 401 years!
Although the school closed in 1969, the Sisters of St. Joseph, Third Order of St. Francis, have continued their ministry to St. Barbara's Parish. Among their works is the Parish School of Religion (PSR), sacristy work, visitation of the sick, and praying for the dead. Over the past hundred years, the Sisters have equipped their charges for higher education, careers, and families. From St. Barbara's graduates have come forward teachers, nurses, zoo workers, car dealer, furniture store operator, career military personnel, and good Catholic parents.
We must admit that the Sisters were excellent vocation recruiters. We note the following vocations from St. Barbara's Church:
Society of Mary
Brother Stanley Zubek
Franciscans of the Assumption Province
…Fr. Rembert Badarzynski
Fr. Eugene Linowski
Diocesan Priesthood
Msgr. Michael Dylag of the Greensburg Pennsylvania Diocese, Orchard Lake Schools & fundraiser for the John Paul II Cultural Center in Washington D. C.
Fr. Joseph S. Jarosz, pastor of St. Barbara's Church, 1929-1970
Fr. Joseph Hilinski, currently pastor of Our Lady of Mercy & Delegate Ecumenical Interfaith Affairs
Fr. David A. Novak, currently pastor of Holy Trinity, Lorain
Franciscan Sisters of Sylvania
…Sister Helen Chmura
…Sister Victoriana Chmura
…Sister Justin Jurasz
…Sister Matthew Kulig
…Sister Stephanie Wolowiec
Sisters of St. Joseph, TOSF
Sister M. Laurentine Andreasik
…Sister M. Michaeline Badarzynski
Sister Alice Chmura
Sister Esther Gailey
Sister Georgiann Gorszyca
…Sister Alma Kobylak
…Sister Florence Krupa
Sister Marjorie Szydlo
Sister Donna Marie Wolowiec
Sisters of the Precious Blood
Sister Irene Holz (Hals)

For all of these we say, Te Deum, Laudamus - "Holy God We Praise Thy Name."