Cleveland, Ohio

A Neighborhood Exploration

Currently

301

articles regarding its history



Merkle-Miller
From Brooklyn Centre Wiki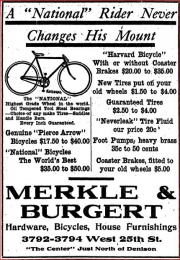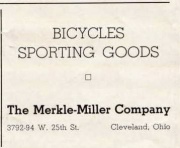 Location:
3792-94 West 25th St., Cleveland, Ohio
Owner:
Chris Merkle was partners with Burgert in 1908, and then with Fred J. Miller by 1909.
Business:
Initially, the main products sold were bicycles and parts but the owners expanded into automobile parts around 1915 and then later general hardware. They also did contract heating work.
---
Help support this website by visiting some of the Ads provided by Google.