Cleveland, Ohio

A Neighborhood Exploration

Currently

301

articles regarding its history



Wyatt Hardware
From Brooklyn Centre Wiki
(Difference between revisions)
Line 7:
Line 7:

The earliest mention at the 3817 or 3819 address was in an ad in 1912. Although unverified, it is possible that Wyatt may have planned to locate the store at 3807-09 West 25th Street. Wyatt purchased that lot in 1921.

The earliest mention at the 3817 or 3819 address was in an ad in 1912. Although unverified, it is possible that Wyatt may have planned to locate the store at 3807-09 West 25th Street. Wyatt purchased that lot in 1921.

-

Born 11 Mar 1889 in Iowa, Wyatt was the son of Clair L. Wyatt and Ida E. Rollo. He died on 12 Dec 1932 leaving a widow, Esther (Malusky)

+

Born 11 Mar 1889 in Iowa, Wyatt was the son of Clair L. Wyatt and Ida E. Rollo. He died on 12 Dec 1932 leaving a widow, Esther (Malusky)

----

----
---
Revision as of 19:21, 17 January 2012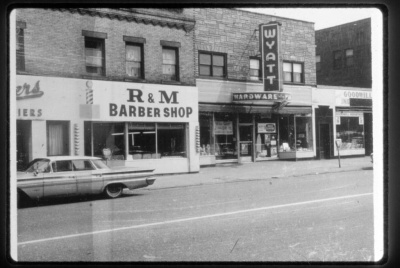 Location: 3817 West 25th Street
Owner: Harry Milton Wyatt (1889-1932)
The earliest mention at the 3817 or 3819 address was in an ad in 1912. Although unverified, it is possible that Wyatt may have planned to locate the store at 3807-09 West 25th Street. Wyatt purchased that lot in 1921.
Born 11 Mar 1889 in Hull City, Iowa, Wyatt was the son of Clair L. Wyatt and Ida E. Rollo. He died on 12 Dec 1932 leaving a widow, Esther (Malusky)
---
---
Help support this website by visiting some of the Ads provided by Google.