Cleveland, Ohio

A Neighborhood Exploration

Currently

301

articles regarding its history



Botany Avenue
From Brooklyn Centre Wiki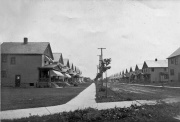 Post-1906 name:
Botany Avenue
Location:
Between West 16th St. and West 14th Street, south of Denison Avenue
Development:
Named for:
The origin of the name Botany has not as yet been determined. One possibility is that the developers, Consolidated Oyster Packing, may have named it for some familiar place back in New England. An 1898 map shows the street as Bonney and a late 19th century property deed shows it as Bonnie. One other reference to the street was Bohne. In 1894, the city, in an effort to avoid duplicate street names, renamed Highland Street as Bonney Street. The earliest known (1889) name for this street was Highland Street, named no doubt for the fact that the street sat high on a bluff overlooking Big Creek.
MAP
The following maps show the modern view of Botany which has had it's eastern end taken over by the Jennings Freeway:
---
Return to Main Page
Help support this website by visiting some of the Ads provided by Google.