Cleveland, Ohio

A Neighborhood Exploration

Currently

301

articles regarding its history



Ohio Canal
From Brooklyn Centre Wiki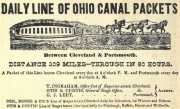 First established in 1825.
The route of the canal, as it made its way towards Cleveland, brought it along the eastern boundary of Brooklyn Centre. The Five Mile Lock was situated on the Eastern side of the Cuyahoga River. Once the canal system was abandoned, its exact former location could be pinpointed as being under where the Harvard-Denison Bridge stood in the early 20th century.
Ebenezer Foster provided a few details of his experiences working for the builders of the canal in his autobiographical book Early Days Of The Pioneers - Cuyahoga County And Brooklyn Township written in 1880.