Cleveland, Ohio

A Neighborhood Exploration

Currently

301

articles regarding its history



Ebenezer Foster
From Brooklyn Centre Wiki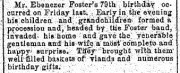 Ebenezer Foster was born in North Stonington, Connecticut on April 19, 1810, the fifth of eleven children born to Michael B. Foster and his wife, Abigail Fish. The large family moved to Cuyahoga County in the early 1820's and settled on land that was part of Western Reserve original Lot 74. Michael became sick just a couple of years after he arrived and died in August of 1824 leaving his large family to fend for themselves.
Ebenezer mentions in his history, "Early Days of the Pioneers", that their old log house had been "where Leonard G. Foster now lives." The book was written in 1880, at which time Leonard was living on a large lot at the corner of West 15th and Denison Avenue.
Ebenezer died on July 22, 1897 at the age of 87. He is buried in Lot 62 6-S of Denison Cemetery on Garden Avenue in Cleveland, Ohio. His father, Michael is also buried there.
---