Cleveland, Ohio

A Neighborhood Exploration

Currently

301

articles regarding its history



Leonard G. Foster
From Brooklyn Centre Wiki
Image:None available
Name
Leonard Gurley Foster
Born
10 Sep 1840
Brooklyn Village, Cuyahoga County, Ohio
Died
13 Dec 1937
Cleveland, Cuyahoga County, Ohio
Resting Place
Riverside Cemetery
Occupation
Property developer
Spouse(s)
Lyde Holmden
Children
Gertrude Foster, Ernest Holmden Foster, Leonard Willard Foster
Parents
Ebenezer Foster and Almira Williams

OWNER:
Leonard Gurley Foster
LOCATION:
Part of Original Lot 74 situated in the Township of Brooklyn, County of Cuyahoga and State of Ohio.
HISTORY:
Leonard G. Foster (1840-1937) was the son of early pioneer, Ebenezer Foster and was married to Lyde Holmden.
As one of the heirs of his father, he eventually owned and developed property from West 18th St. (where it meets with Willowdale Avenue and Forestdale Avenue to the east side of West 15th Street and from the southern property line of Riverside Cemetery to Denison Avenue. Quite a large part of his property consisted of a deep ravine that ran north and south. That ravine served as a dumping ground for the city in later years and was finally filled in totally and is now an open grassy area. The part owned by Riverside now holds new gravesites.
His home was situated on a large lot at the northwest corner of West 15th St. The lot was later sold to the Cleveland Railway Company to provide access to the ravines. For a time, the lot was also used as a streetcar turnaround.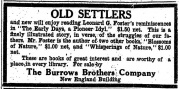 Well-known as a local nature poet, Leonard penned several books of poems such as: "The Early Days," "Whisperings of Nature," "Blossoms of Nature," and "Songs of Nature"[1]
References
↑ A history of Cuyahoga County and the city of Cleveland', Coates, William R., Chicago: American Historical Society, 1924, 1339 pgs, Volume 1, pg. 78.
A biographical sketch of Leonard Gurley Foster can be found in Volume 2, pg. 119
call no: [F34ZD C652 v. 2]
Property Developers

LOT 64:
Hanna Estate • Stewart Land Company
LOT 65:
LOT 74:
Consolidated Oyster Packing • Curtis, Ambler, and Pixley • Curtis-Ambler Realty • Curtiss, Foster, and Sprague • Ebenezer Foster Heirs • Edwin H. Foster • Gates and Foster • Gates, Curtis, and Foster • K,L,&J (Kroehle, Luce, & Jenman) • Kees and Bruch • Leonard G. Foster • Leonard Pixley • Petty and Baldwin • Sprankle Realty • William Mallo
Help support this website by visiting some of the Ads provided by Google.