Cleveland, Ohio

A Neighborhood Exploration

Currently

301

articles regarding its history



Jacob Schneider
From Brooklyn Centre Wiki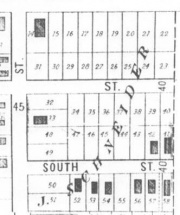 OWNERS:
Jacob Schneider (1812-about 1898)
LOCATION:
Part of Original Lot 65 situated in the Township of Brooklyn, County of Cuyahoga and State of Ohio.
Jacob Schneider Allotment - Bounded by the west side of West 21st St., the south side of Denison Avenue, the east side of West 23rd St.. to Hurley Avenue (formerly known as South Street) on the south.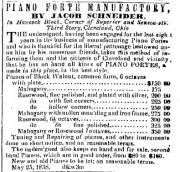 HISTORY:
Jacob Schneider, a German immigrant, purchased a large tract of land in 1853 from Alex Ingham. Jacob, a piano manufacturer, lived with his wife Christina (Graef) in a large home at the southeast corner of Denison Ave. and West 23rd St. This corner property (sublots 113 & 114 in the Jacob Schneider Allotment) later became the site of an apartment complex.
In the mid-1880's when he in his 70's, he began disposing of his holdings by selling off individual lots. Some were sold to his children: Mary Elizabeth (a spinster), Mary A. (wife of Charles Kroehle), Julia C. (wife of Edmund Nicolaus), and Herbert. Only Mary Elizabeth remained in the neighborhood until her death in 1915. Although an exact date of death has not been found for Jacob, he probably died around 1898 or 1899. His signature appears on a deed in 1898 but his wife's 1899 obituary refers to her as a "relict" (widow).
Property Developers

LOT 64:
Hanna Estate • Stewart Land Company
LOT 65:
Betts and Bibbins • Fuller, Kain, and Kroehle • Fish-Schneider • Moses Fish • Jacob Schneider
LOT 74:
Consolidated Oyster Packing • Curtis, Ambler, and Pixley • Curtis-Ambler Realty • Curtiss, Foster, and Sprague • Ebenezer Foster Heirs • Edwin H. Foster • Gates and Foster • Gates, Curtis, and Foster • K,L,&J (Kroehle, Luce, & Jenman) • Kees and Bruch • Leonard G. Foster • Leonard Pixley • Petty and Baldwin • Sprankle Realty • William Mallo
Help support this website by visiting some of the Ads provided by Google.