Cleveland, Ohio

A Neighborhood Exploration

Currently

301

articles regarding its history



John Stanton Fish
From Brooklyn Centre Wiki
Name
John Stanton Fish
Born
26 March 1830
Brooklyn Village, Cuyahoga County, Ohio
Died
20 September 1903
Resting Place
Dennison Cemetery
Occupation
Ice company; property developer
Spouse(s)
Chloe Clark (1851-1881)
Martha Jane Turner (1883-1937)
Children
Clara Fish, Mary Stanton Fish, Karl Turner Fish
Parents
Ebenezer Fish and Joanna Stanton

Biography
John Stanton Fish, born on March 26, 1830 in the Village of Brooklyn, Cuyahoga County, Ohio, was the last child and only son born to early Brooklyn Centre settler, Ebenezer Fish, Jr. and his wife Joanna Stanton Fish.
John Stanton Fish was born, lived, and died on what is now Forestdale Avenue.
His Early Years
When he was a young man of twenty, he worked as a soap maker [1] and by 1860 he was a store keeper.[2] Although it isn't known for sure what soap factory he might have worked at, a good possibility is the Cuyahoga Soap Company which at that time was located just across West 25th St. from Forestdale. The owner of the soap company was Ludwig Stadler whose son, August continued using the company name after his father died.
Business Interests
John was proprietor of the Willow Spring Pond Ice Company. The ice was harvested from the deep ravine that lay south of the Fish residence on Forestdale Avenue. He also operated a grocery store on Pearl Street (as mentioned in the funeral notice which appears below) and was proprietor of the Brooklyn Opera House[3]
Along with his father, Ebenezer, John was also involved in the development of the Brooklyn Centre area. As the area grew, the original property that was settled by his father was divided and sold. Brooklyn was growing and many homes were being built.[4].
John's reputation within the community, as the son of one of the original settlers of the area and as a developer, found him further involved in the political scene by the late 1860's.
Politics

In 1867 the Village of Brooklyn was incorporated. John Fish served in various capacities as a village official. The first year he was one of the trustees. From 1869 through 1871, John Stanton Fish served as the treasurer. After a brief hiatus from the political scene, John Stanton Fish ran for the office of Mayor. He served in this capacity for two years, 1878 and 1879.[5]
John also worked as an architect during this time. In 1869 he was the architect of the Mallo-Donahue House. This structure still stands today and is listed as one of Cleveland's Landmarks under the Cleveland Landmark Commission. It is located at 3731 W. 25th Street.[6]
Personal Life

John was married at the age of 21 to Chloe Clark. John and Chloe were married sometime in late 1851 (marriage license was applied for on October 20, 1851). By 1854, John and Chloe were the parents of a daughter named Clara. Sadly, they lost their only child in 1856. In 1881, Chloe passed on, leaving John a widower at the age of 51.[7]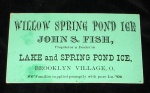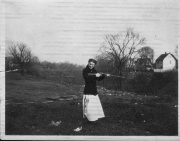 In May 16th, 1883 John Stanton Fish married once again. His bride was a young school teacher named Martha Jane Turner. To her family and friends she was always known as Jennie. On July 22, 1896, after thirteen years of marriage, Jennie gave birth to their first child, a daughter named Mary Stanton Fish. Two years later, on February 10, 1898 Jennie presented John Fish with a son, Karl Turner Fish.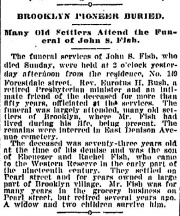 Unfortunately, John Stanton Fish was unable to see his children grow to adulthood. On September 20, 1903 John Stanton Fish passed away.[8] He was 73 years old at the time of his death. John Stanton Fish is buried in Denison Cemetery with his first wife, Chloe and daughter Clara. His wife Jennie remained a widow and lived in their home until her death on January 4, 1937. Jennie Fish is buried with her Turner family in Riverside Cemetery in Cleveland, OH.
Notes
---