Cleveland, Ohio

A Neighborhood Exploration

Currently

301

articles regarding its history



St. Barbara Church Album
From Brooklyn Centre Wiki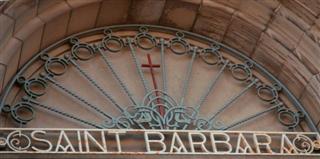 The following photographs were taken on Dec 1, 2007 by Sandra Wanicki Rozhon and Lahni Rozhon Moore.
This gallery is an attempt to preserve our neighborhood heritage for generations to come by creating a pictorial record of what our church looks like, inside and out.
When we took our pictures, we made a conscious effort to include nearly every detail, no matter how small. Therefore, this project goes beyond the usual and expected. We hope you enjoy exploring all the features of St. Barbara's as much as we did.
Today's church is absent the smell of newly cut/worked wood that it had upon opening in 1952. Likewise, the smell of burning candles isn't as dominant as it once was. The photographs hardly notice things like that, though.
---
Click any of the images for a larger view.
In some cases, below the larger view, there is a link for the full sized image.
---

Comments about this gallery should be sent to:
barbarowa@yahoo.com
Exterior
Veteran's Memorial
Close-up
St. Barbara's Veterans and Parishioners War Memorial in Honored Memory of Those Who Gave Their Lives For Their Country.
Honored unveilor Stanley J. Godek - Survivor of Bataan Corregidor Death March, Anthony F. Budzik - S/Sgt. Air Corp., Chester Wojcik - S/Sgt. Air Corp., Julius Jezior - S/Sgt. Air Corp., Joseph W. Budzik - Pvt. Army Inf., Anthony Jakubowski - PFC. Army Inf., Theodore E. Kulak - Pvt Army Inf., Henry A. Kubala - PFC. USMC Inf., Stanley F. Bartkiewicz - S/Sgt. USMC Inf., Carl Krzyzak - Pvt. Army Inf., Andrew L. Opiela - Major FA., Cpl. Joseph Sliwa - 90th 9MB GP.
Altar
Pews
Stained Glass Windows
Confessional
Choir
Vestibule
Stations of the Cross
Wall below Choir
East Wall
West Wall
Ceiling Detail
Above the Altar, one can see paintings in each corner of the vaulted ceiling. These images -- a man, lion, ox, and eagle -- are representations of not only a passage from Ezekiel, but also of the tradition of the gospels written by the four apostles. Matthew is represented by a man or angel. Mark by a Lion. Luke by an Ox. John by an Eagle.
"As for the appearance of their faces:
the four had the face of a HUMAN being, the face of a LION on the right side,
the face of an OX on the left side, and the face of an EAGLE"
----------------------Ezekiel 1:10----------------------
The main vaulted ceiling, over the Nave (pew area), was originally painted sky blue with clouds. In later years, it was painted over with just plain white.
Statues
Downstairs Hall
The scanned image of the Mother's Day 1940 photo. A very high resolution copy of this photo is available (11832x8904) by request. If you think your Mother or Grandmother may have attended this event and would like a copy, e-mail Sandra Rozhon and it will be e-mailed to you. The resolution allows you to zoom in so far that you can see buttons, rings, necklaces, and other small details.
Old Church
The old church (3rd church) was located behind the school building on Denison Ave. After the new church was built on the corner, the space was used as a gymnasium.
St. Barbara's Parish related pages
Return to Main Page
Help support this website by visiting some of the Ads provided by Google.
---
Return to Photo Albums
or
Return to Main Page
Help support this website by visiting some of the Ads provided by Google.