Cleveland, Ohio

A Neighborhood Exploration

Currently

301

articles regarding its history



Ebenezer Foster Heirs
From Brooklyn Centre Wiki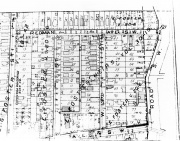 Location:
Original Lot 74 of the Western Reserve in Cuyahoga County, Ohio.
The heirs of Ebenezer Foster were the primary developers of Redman Avenue, West 13th St., West 14th St., a small portion of Denison Ave. between those latter two streets, and a small portion of Jennings Avenue just north of Denison.
Originally Ebenezer's farm; the property was divided up into about 100 lots.
---

This WIKI uses an abbreviation system that helps one to understand exactly which lot numbers are described in the deeds.
EFW = Lots on the west side of West 14th St. and a few at the western end of Redman Ave. Sublot numbers run from EFW01 to EFW24.
EF = Lots on the east side of West 14th St., both sides of West 13th St., and the remainder of Redman Avenue. Sublot numbers run from EF01 to EF96.
Property Developers

LOT 64:
Hanna Estate • Stewart Land Company
LOT 65:
LOT 74:
Consolidated Oyster Packing • Curtis, Ambler, and Pixley • Curtis-Ambler Realty • Curtiss, Foster, and Sprague • Ebenezer Foster Heirs • Edwin H. Foster • Gates and Foster • Gates, Curtis, and Foster • K,L,&J (Kroehle, Luce, & Jenman) • Kees and Bruch • Leonard G. Foster • Leonard Pixley • Petty and Baldwin • Sprankle Realty • William Mallo
Help support this website by visiting some of the Ads provided by Google.